Generational Differences
Oct 9, 2020
---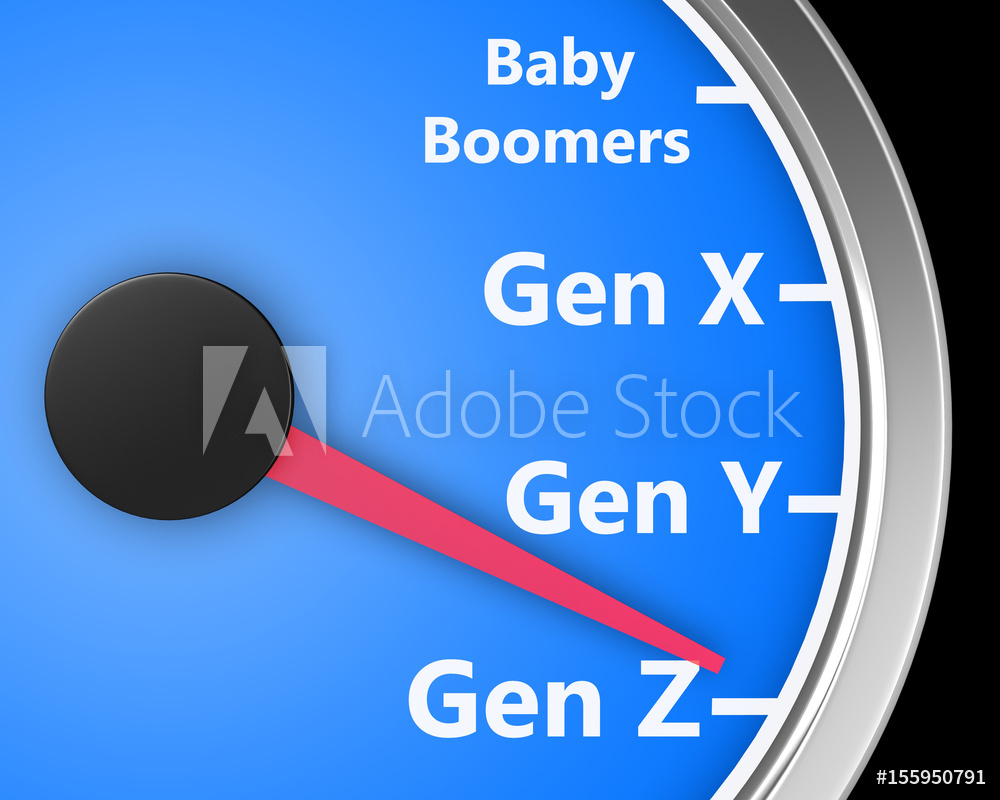 Know your people and how they tick. How we work with, manage, and communicate in today's virtual world is important. Understanding the generational differences - what motivates, how to keep them engaged, performing, and simply how to communicate with your team can go a long way.
First, do not stereotype generations. This is not received by all. Understand the studies are changing and as we gain more and more knowledge, especially about the Millennials and Gen Z's, the information will change.
Know your people and how they tick. How we work with, manage, and communicate in today's virtual world is important. Understanding the generational differences - what motivates, how to keep them engaged, performing, and simply how to communicate with your team can go a long way.
Traditionalist
1900-1945
Great Depression
World War II
Vaccines
Has Seen it All
Baby Boomers
1946-1964
Vietnam
Women's Rights
Civil Rights
Watergate
Generation-X
1965-1980
Fall of Berlin Wall
Aids
Birth of Internet
Dot Com Boom
Millenials
1977-1997
9-11
Community Service
Columbine
Social Media
Generation-Z
1998-Today
Great Recession
Coronavirus
Snapchat / TikTok
Mobile Phones
In the Workplace:
The Traditionalists are very loyal to company and teams. Their knowledge derives from experience as they have seen it all. The traditionalists are well disciplined yet will avoid conflict is at all possible. The Traditionalist do have respect for hierarchy as they will seek to be respected, in their mind, age equals seniority. They will follow processes and are slow to adapt to the newest technology.
The Baby Boomers are innovators. They love to experiment and find solutions through trial and error. They have respect for the Traditionalist and appreciate learning from them. Their focus will on process. They will work best with managers that are fair, consistent, and most of all ethical. Baby Boomers are hard-working and value job security. They hold high regard for titles.
The Gen X'ers are adaptable and independent. They will indeed challenge the status quo. Entering the technology world, allowing for flexibility in their schedule will motivate them. The Gen X'ers do value their work / life balance; yet sometimes struggle with managing this as they do believe that good performance equals respect which pushes them to overload and overachieve in the work. They are results driven.
The Millennials are confident and competitive. They typically have the ability to multi-task and need to be busy. Millennials value their freedom and their flexibility in schedule and work. While Millennials do have a sense of entitlement and immediate need for answers, work, reward, and respect; they can get extremely excited about the company values and become your marketing campaign, utilizing social media. Their focus will be involvement and diversity. Do not be surprised if they choose to work right out of high school, potentially returning or going to college virtually when they know more about their career path.
The Gen Z's are extremely optimistic. Change has been a part of their world and this is a strong characteristic that can be channeled in the workplace. Gen Z's do have high expectations in everything, however, are realists. They want and expect formal training. They will learn with a purpose; striving for what they believe is the best. Similar to the Gen X'ers, they will ask why and how – trying to understand the purpose behind the process. They are not as "open" as the Millennials, stepping back into a "semi-private" style. The Millennials will always share their opinion and the Gen Z's have one, you can count on it, but you will have to ask, preferably one on one.
Communication:
The Traditionalist much prefer written communication. Technology can be frustrating as they prefer the "old fashioned way".
The Baby Boomers prefer personal interaction. The verbal discussion is enough to steer them in right direction.
The Gen X'ers prefer the distant voicemail or email. Do not over complicate this. Be specific, precise yet respect the boundaries – do not intrude on their personal space.
The Millennials prefer instant messages, text messages, and emails. One on one interaction is important but so is the social world.
The Gen Z's prefer text messages, group me, social IMs.
Managing: Remember, everyone is different and needs to be managed differently to gain the most out of their potential. Whether you are talking about technology, interaction, training, communication, or work ethic – learn what motivates your team, and how to challenge them.
The Traditionalist want to feel valued due to their knowledge. Engage them prior to changes, allowing them to adapt with the solutions. They will not challenge the status quo as they do not like conflict. Respect their success and utilize their knowledge for the better of the organization. They do not always understand why we must change – "if it is not broke, do not fix it" so communicate change often, show them the path, lead them through the fire, and emphasize stability.
The Baby Boomers will excel in a team environment. Allowing them to be involved will help them understand why and how things are changing. Providing them with specific goals and deadlines, allowing them to mentor, and coaching them along the way will drive them toward success.
The Gen X'ers appreciate flexibility. Give them the task at hand and let them run with it. They will be skeptical of everything; do not expect the Gen X'ers to trust you, this must be earned and can be easily torn down. Keep them engaged, offering immediate feedback – do not wait until their annual performance review. They need to be challenged in order to provide personal growth in their career, even without the promotion. Respect their ideas and try not to micromanage them.
The Millennials need structure and supervision. Keep in mind, the later Millennials will enter the workforce at a younger age and do not necessarily value a college education. They will appreciate collaborate and virtual training options. It will be important to coach and mentor them continually. One on one interaction with their manager is important. They will be motivated by additional responsibility and work opportunities that allow them to work outside the norm. Respect their skills. Manage by results, providing continual and immediate feedback. They will appreciate and be more receptive to the manager that knows them personally. They need the personal connection and will leave if they do not believe in the company values, the manager, or their career.
The Gen Z's prefer to work with Millennials managers, innovative teammates, and of course new technology. Allow them to be self-directed. They require formal training but then you can unleash them. Allow maybe two projects at one time, providing opportunity to challenge their mind and keeping them busy. The Gen Z's are very tenacious and goal oriented. Provide frequent feedback and do not be afraid to change things up as they work well under pressure and change.